Luna Sanctum (2007)
Though very similar on the surface to last year's project, I actually redesigned the entire thing from the ground up. It was sturdier against the wind and rain, better lit, there was space for more runes, and the pieces that were more modular and thus able to be set up more quickly on the playa. A new sign with larger, more readable typography made it easier to idenitfy. (It's astonishing how much a good sign enhances a project.)
The audio component was also heavily overhauled, producing much better results there. Overall it was a substantial improvement on the infrastructure and presetnation of the previous year's project, while retaining the same basic message. We were located just outside the 9:00 plaza.
Luna Sanctuary (2006)
This year's project had its debut at Xara Dulzura. Glowing norse runes and moon crescents are coupled with velvet hangings to produce a chilly, perhaps slightly eerie effect. Subtle music of varying intensity is produced dynamically by a computer program custom-written for this purpose.
At Burning Man we got a sweet spot in the 3:00 plaza (at 1:30 within the plaza, where 12:00 is facing straight toward the man).
Camp Nocturnal (2005)
We decided to go a different direction in 2005 and create something warm and inviting, instead of large and impressive. We built a chill space labeled with an LED-lit sign, hung with tapestries and velvet, and floored with exotic carpets. Within, low-volume music and cushions provided space to relax and reflect.
Beacon (2004)
Armed with new knowledge and a 30' tall tetrahedron made of stage trussing (the skeleton of Ascension), we set out to do it right - and succeeded. Beacon made its first appearance at Reflections in spring of 2004, where trancers danced for over 48 consecutive hours on memorial day weekend. (The first three below are from the playa, the rest from Reflections.)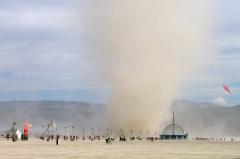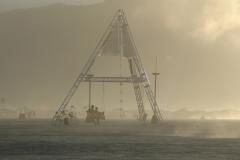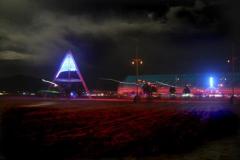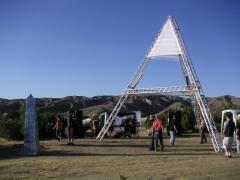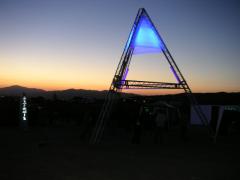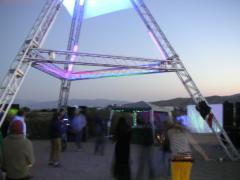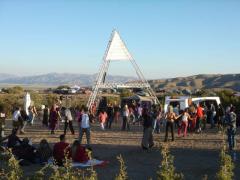 We used the same project but minus the music and plus a shaft of circuit-controlled pulsing LEDs traveling the entire height down the center. There were also swings hanging beneath, always a great way to make your project popular. We were granted a prime plot of playa right next to the 9:00 spoke of the path between the Man and the city. In keeping with its name, it was visible from almost anywhere on the playa.
Many people commented that our project was one of the best that year. Since the art turnout was very weak that particular year this is not as much of an honor as it might normally be, but we were flattered anyway - and, in that secret place inside where you aren't really modest, agreed with them :).
Ascension (2003)
As you might expect with first-timers taking on a project of this magnitude, we made many mistakes. Nonetheless we did pull it off, and what we learned set the stage for our future projects.